$22.99
AUD
Category: Graphic Novels
This is a powerful and timely story about one boy's epic journey across Africa to Europe, a graphic novel for all children with glorious colour artwork throughout. From Eoin Colfer, previously Irish Children's Laureate, and the team behind his bestselling Artemis Fowl graphic novels. Ebo: alone. His s ister left months ago. Now his brother has disappeared too, and Ebo knows it can only be to make the hazardous journey to Europe. Ebo's epic journey takes him across the Sahara Desert to the dangerous streets of Tripoli, and finally out to the merciless sea. But with every step he holds on to his hope for a new life, and a reunion with his sister. *Winner of the Judges' Special Award at the Children's Books Ireland Book of the Year Awards* 'Beautifully realised and punchily told.' Alex O'Connell, The Times Children's Book of the Week 'A powerful, compelling work, evocatively illustrated ... It would take a hard heart not to be moved by this book.' Financial Times ...Show more
$14.99
AUD
Category: Graphic Novels | Series: Hound Heroes Ser.
Earth's furriest -- and funniest -- superheroes make their debut in this hilarious, action-packed graphic novel for young readers Meet the Hound Heroes: fearless Captain Chihuahua, the big-hearted Great, Great Dane, super-speedy Poodle Girl, cyborg pup Power Pug, and the lovable yet irritating Super S heep Dog. Together they make up a crack team of earth's furriest heroes In this first adventure, the Hound Heroes' origin story is revealed when a spaceship crashes in their backyard, giving them superpowers But they aren't the only ones who benefit -- neighborhood alley cat The Claw also gains powers, and she only wants one thing: to destroy the Hound Heroes A nonstop romp full of hilarious action, Hound Heroes is sure to be a hit with young fans of graphic novels. ...Show more
$16.99
AUD
Category: Graphic Novels | Series: Animorphs Graphic Novel
Sometimes weird things happen to people. Ask Jake. He could tell you about the night he and his friends saw a strange light in the sky that seemed to be heading right for them. That was the night five normal kids learned that humanity is under a silent attack -- and were given the power to fight back.No w Jake, Rachel, Cassie, Tobias, and Marco can transform into some of the most dangerous creatures on Earth. And they must use that power to outsmart an evil greater than anything the world has ever seen. . . . ...Show more
$22.99
AUD
Category: Graphic Novels
In a thrilling adaptation of Edgar Allan Poe's best-known works, acclaimed artist-adapter Gareth Hinds translates Poe's dark genius into graphic-novel format.   It is true that I am nervous. But why will you say that I am mad?   In "The Cask of Amontillado," a man exacts revenge on a disloyal friend at carnival, luring him into catacombs below the city. In "The Masque of the Red Death," a prince shielding himself from plague hosts a doomed party inside his abbey stronghold. A prisoner of the Spanish Inquisition, faced with a swinging blade and swarming rats, can't see his tormentors in "The Pit and the Pendulum," and in "The Tell-Tale Heart," a milky eye and a deafening heartbeat reveal the effects of conscience and creeping madness. Alongside these tales are visual interpretations of three poems -- "The Raven," "The Bells," and Poe's poignant elegy to lost love, "Annabel Lee." The seven concise graphic narratives, keyed to thematic icons, amplify and honor the timeless legacy of a master of gothic horror. ...Show more
$14.99
AUD
Category: Graphic Novels
Adolf Hitler's regime has enveloped Europe, and now David, along with all Jews in the Nazi's reach, are in danger. This extraordinary graphic novel traces the story of the rise of Nazism and Hitler's persecution of the Jews, merging historical imagery and documents with the haunting tale of David and h is family. A story of fear, resilience, and compassion, and a legacy of love and hope. ...Show more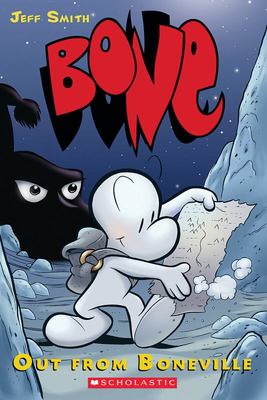 $31.99
AUD
Category: Graphic Novels | Series: Bone
In the first volume of a nine-book epic, the three Bone cousins--Fone Bone, Phoney Bone, and Smiley Bone--are separated and lost in an uncharted desert. Little do the Bones know, there are dark forces conspiring against them.
$31.99
AUD
Category: Graphic Novels | Series: Bone
The adventure starts when cousins Fone Bone, Phoney Bone, and Smiley Bone are run out of Boneville and later get separated and lost in the wilderness, meeting monsters and making friends as they attempt to return home.
$31.99
AUD
Category: Graphic Novels | Series: Bone
Before leaving the village of Barrelhaven, Phoney Bone risks everything on one last get-rich-quick scheme for the town's annual Great Cow Race, but as usual, Phoney's plans go disastrously awry. Simultaneous.
$15.99
AUD
Category: Graphic Novels
There's a new kid at Shipwreck Primary! But there's also something fishy about her. Can Finn the Shark and his buddies work out who she is, and could she possibly be the answer to their problems with Blake the bully? With Great White Shark teachers, treacherous undersea races and dangerous fishermen nea rby, it's never a dull moment in this School of Fish! An hilarious new underwater graphic novel. It will have you hooked!   ...Show more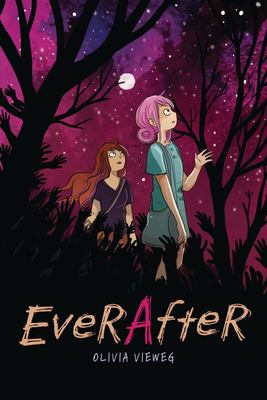 $29.99
AUD
Category: Graphic Novels
Vivi and Eva are two travelers in a countryside filled with the undead. After a train breaks down, stranding them between safe zones, the young women partner up to stay alive. Vivi is struggling with grief--and guilt--over the loss of her sister. Eva is hiding the start of a horrifying transformation. T ogether they'll face heat, zombie hordes, and their own inner demons, searching for signs of life in a land of the dead. This graphic novel addition to an enduring genre is thoughtful and emotion-driven, but also full of zombie scares and action. -- "Journal" ...Show more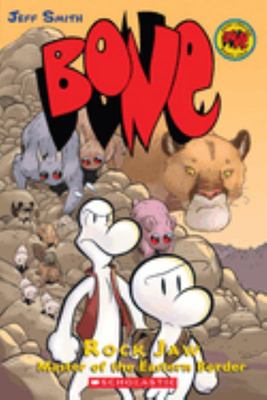 $31.99
AUD
Category: Graphic Novels | Series: Bone Ser.
Trying to return a rat creature cub to the mountains, Fone & Smiley Bone encounter yet another adversary: the sly and mighty mountain lion, Rock Jaw. In this fifth volume of the BONE saga, Fone and Smiley Bone strike out into the wilderness to return a lost rat creature cub to the mountains. It does n't take long before they run smack into Rock Jaw, "Master of the Eastern Border," an enormous mountain lion with a none-too-friendly disposition. Life gets even more complicated when they befriend a group of baby animals who are being orphaned by rat creature attacks. Everything comes to a head in an earth-shattering clash between Rock Jaw and Kingdok, the leader of the rat creatures. ...Show more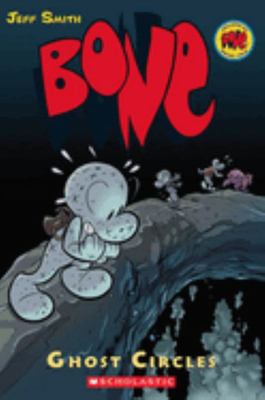 $31.99
AUD
Category: Graphic Novels | Series: Bone
Natural disaster and supernatural evil collide in the seventh volume of the epic BONE series. A long-dormant volcano explodes, blacking out the sun, mowing down trees, and filling the land with soot and ash. The Lord of the Locusts has been released. Against this apocalyptic backdrop, the Bone cousins a long with Thorn and Gran'ma Ben struggle to reach safe haven in the city of Atheia.Meanwhile, Lucius Downs lies severely wounded and trapped with the villagers in the camp at Old Man's Cave. ...Show more