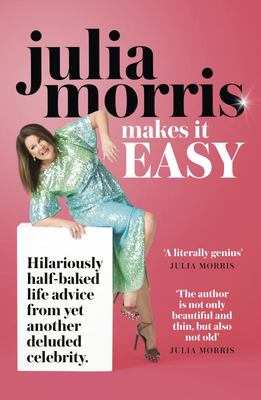 $29.99
AUD
$34.99
(14% off)
Category: Humour
Life is hard. Families, friends, jobs, bills. So much pressure, and everyone else seems to make it look so simple. But don't panic, Lady JMo is here to help you live the perfect Julia Morris life. Julia's hilarious brand of nice-but-not-very-bright advice, slacker life hacks and impractical solutions to practical issues is 0% guaranteed to transform your life with the bare minimum of effort or time. And if she can't do that, she'll at least show you how to cover up the mess she made and make it all look OK on Instagram. EASY!   ...Show more
$32.99
AUD
Category: Humour
A collection of funny personal essays from one of the writers of Superbad and Pineapple Express and one of the producers of The Disaster Artist, Neighbors, and The Boys. (All of these words have been added to help this book show up in people's searches using the wonders of algorithmic technology. Thanks for bearing with us!) Hi! I'm Seth! I was asked to describe my book, Yearbook, for the inside flap (which is a gross phrase) and for websites and shit like that, so... here it goes!!! Yearbook is a collection of true stories that I desperately hope are just funny at worst, and life-changingly amazing at best. (I understand that it's likely the former, which is a fancy "book" way of saying "the first one.") I talk about my grandparents, doing stand-up comedy as a teenager, bar mitzvahs, and Jewish summer camp, and tell way more stories about doing drugs than my mother would like. I also talk about some of my adventures in Los Angeles, and surely say things about other famous people that will create a wildly awkward conversation for me at a party one day. I hope you enjoy the book should you buy it, and if you don't enjoy it, I'm sorry. If you ever see me on the street and explain the situation, I'll do my best to make it up to you.   ...Show more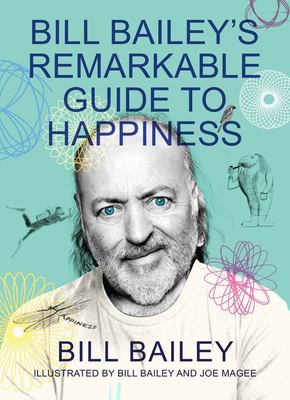 $35.00
AUD
Category: Humour
In Bill Bailey's Remarkable Guide to Happiness, Bill explores the nature of happiness and ways to be, well, happy. Being Bill Bailey however, he does so in his own, remarkable, Bill Bailey way. From paddle-boarding down the Thames in a Santa hat, to wild swimming in a glacial river, Bill considers the e xhilaration of the outdoors, as well as the quieter pleasures of clearing out your moth-eaten grey t-shirts. He attempts to see beyond the mumbo-jumbo of the wellness industry and aims for the heart of real joy and contentment - and how we can all achieve it. This collection of funny, meditative and thoughtful essays seeks out simplicity and clarity as a corrective to the endless background noise of anxiety-inducing news chatter. Whether it's whooping aloud while cycling through a pine forest, putting pen to paper, or immersing yourself in music, Bill's guide to happiness is an antidote to the frenetic whirl of modern life. Fully illustrated with drawings by Bill himself, this is a wonderful gift of a book for anyone who needs a slice of comfort. ...Show more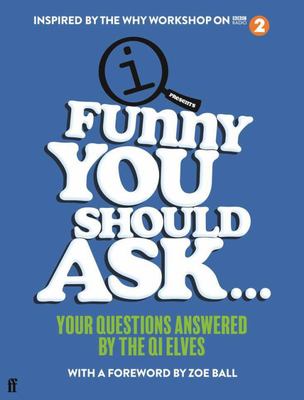 $24.99
AUD
Category: Humour
The QI Elves are the clever clogs behind the hit panel show QI. Every Wednesday the Elves appear on The Zoe Ball Breakfast Show's 'Why Workshop' where they answer the ponderings and wonderings of Radio 2's most inquisitive listeners. Funny You Should Ask features the QI Elves' answers to questions on to pics ranging from goosebumps to grapefruit, pizza to pirates and everything in-between. Generously sprinkled with extra facts from the Elves this is essential reading for the incurably curious. How much water would you need to put out the Sun? If spiders can walk on the ceiling why can't they get out of the bath? What's the point of snot? Why does my pizza taste so much better the next morning? Why do dads make such bad jokes? Why am I a capital letter and you're not? Why is there an Essex, a Wessex, a Sussex but no Nossex? Can I dig a tunnel to the other side of the Earth? Why aren't unicorns called unihorns? Do cats get goosebumps? When does a rock become an island? Why don't clouds freeze? Can I live forever? ...Show more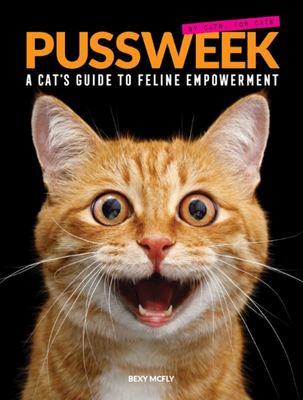 $26.99
AUD
Category: Humour
Pussweek: A Cat's Guide to Feline Empowerment is full of hilarious spreads, quizzes, and advertisements, as well as top-notch photos of cats in all their cuteness and weirdness. Based on the magazine series Pussweek, written "by cats, for cats," this book is a feline parody of fashion and celebrity goss ip rags.   In a market saturated with "cat shaming," Pussweek gives cats their claws back. With an intelligent editorial voice of their own, these cats don't want dumb memes--they want you to stop secretly filming and posting them on the internet, and they want to empower all of the other feline friends out there who are sick of human nonsense.   - With their own forum, these feisty cats provide a rare look into the private lives of felines everywhere- Filled with articles of a caliber of humor that are clever and a little bit edgy, while still not above a well-placed cat pun- A collector's edition featuring some of the series' most popular articles, like "Top 20 Most Satisfying Things to Push Off a Table," "Playtime is Over: The Out of Control Hand that Touched My Furry Place," and "Somewhat Effective Workouts for Extremely Busy Cats," as well as tons of all-new material from cats who have a lot of dirty laundry to air   Every cat owner has wondered: 'What the heck is my cat thinking?' and Pussweek will hold all the myriad answers in one big volume full of outrageously cute (and simply outrageous) cats.   From scandalous pawparazzi pics to revealing litter quizzes, hairy expos s to tell&ndash: tail interviews, you will finally find the feline empowerment that lies within you-and don't take a doggone no for an answer.   - Great for cat owners and cat lovers of all stripes, and those looking for the perfect gift for that crazy cat friend- Based on the wildly popular Pussweek magazine- Perfect for fans of How to Tell If Your Cat Is Plotting to Kill You by The Oatmeal, How to Talk to Your Cat About Gun Safety: And Abstinence, Drugs, Satanism, and Other Dangers That Threaten Their Nine Lives by Zachary Auburn, Breaking Cat News: Cats Reporting on the News that Matters to Cats by Georgia Dunn   ...Show more
$14.99
AUD
Category: Humour
A wickedly witty field guide to bookstore customers from the Person Who Doesn't Know What They Want (But Thinks It Might Have a Blue Cover) to the harried Parents Secretly After Free Childcare. It does take all kinds. If you visit bookshops more often than the grocery store, you'll recognize the types. There's the Expert (with subspecies from the Bore to the Helpful Person), the Young Family (ranging from the Exhausted to the Aspirational), Occultists (from Conspiracy Theorist to Craft Woman). Then there's the Loiterer (including the Erotica Browser and the Self-Published Author), the Bearded Pensioner (including the Lyrca Clad), the The Not-So-Silent Traveller (the Whistler, Sniffer, Hummer, Farter, and Tutter), and the Family Historian (generally Americans who come to Shaun's shop in Wigtown, Scotland). Two bonus sections include Staff and, finally, Perfect Customer -- all from Shaun Bythell (author of Confessions of a Bookseller), the funniest sell-and-tell observer in the house of books. This is the perfect read for anyone who ever felt a bookstore was home. You've been spotted! Or have you?   ...Show more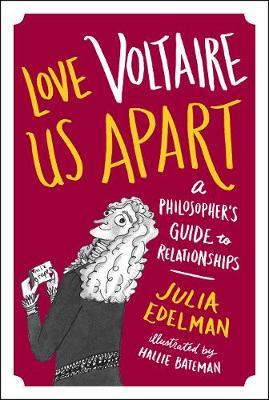 $22.99
AUD
Category: Humour
What would Kant's sexts look like? How would Jean-Paul Sartre and Simone de Beauvoir break up? What would Confucius think of Tinder? Love Voltaire Us Apart is a hilarious spoof relationship guide with a philosophical edge, made up of philosophers' love letters, advice columns and breakup letters. From C onfucius learning the Golden Rules of dating to Simone de Beauvoir considering bangs after breaking up with Jean-Paul Sartre, comedy writer Julia Edelman views the love lives of prominent philosophers through a clever and contemporary lens. She points out that Margaret Fuller is the "Carrie" of transcendentalism, and Nietzsche will always find a way to make a bad breakup infinitely worse. "Getting Meta(Physical)-Who is Your Philosopher Crush?" is the only quiz you'll need to find your soul mate, and "How To Know if Your Man is Writing a Manifesto" will show you how to avoid losing your relationship to imminent revolution. Based on Edelman's New Yorker article, "Excerpts from Philosophers' Breakup Letters Throughout History", Love Voltaire Us Apart is funny, smart, refreshingly original, and brought to life with charming illustrations by Hallie Bateman. ...Show more
$12.99
AUD
Category: Humour | Series: The\Little Book Of... Ser.
The best dad joke book you'll ever read. Yes, it's that bad. As the ancient adage goes, 'A good dad joke is as bad as a bad dad joke'. On that fuzzy logic alone, 100 per cent of the 180+ dad jokes in this book are pure comedy gold. The jokes included in this tiny tome are revered by dads all over the wo rld - that's how bad they are. Some jokes are old, some are new, some are unrepeatable - but all of them are worn out and tired. If you're a dad, you'll love them. If you're buying it for your dad, don't worry, the book is little for a purpose: should the urge to throw it down the toilet arise, it'll fit in one flush. Like dads themselves, these dad jokes are absolute stinkers. They haven't showered or gone to the gym in a while and, due to bloating, haven't seen their funny bones in a long time. But, like dads themselves, you'd miss them if you didn't hear them every once in a while. They are loveable in their own charming way. But, remember, don't eat all these jokes at once - you'll have a severe nervous breakdown. You have been warned! ...Show more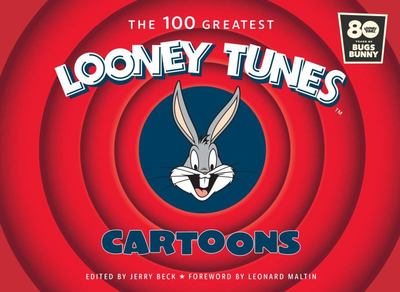 $39.99
AUD
Category: Humour
Celebrate the best of Looney Tunes cartoons, just in time for Bugs Bunny's 80th birthday   In a world of rascally rabbits, megalomaniacal ducks, and stuttering pigs, what defines greatness? This question was posed to thousands of cartoon fans, historians, and animators to create The 100 Greatest Loone y Tunes Cartoons, the definitive Looney Tunes collection. Jerry Beck and the Cartoon Brew team of animation experts reveal the amusing anecdotes and secret origins behind such classics as "What's Opera, Doc?," "One Froggy Evening," and "Duck Dodgers in the 241/2th Century." Featuring more than 300 pieces of original art from private collectors and the Warner Bros. archives, The 100 Greatest Looney Tunes Cartoons settles the debate on the best of the best, and poses a new question: Is your favorite one of the greatest? ...Show more
$17.99
AUD
Category: Humour
The ever popular and thoroughly entertaining, Aussie Slang Dictionary (13th edition), is back to help you decipher and speak the true local language. Full of dazzling definitions from true-blue Aussies, you'll never be lost for words with this collection of colourful sayings. From 'aerial ping-pong' (A FL) to 'on the wrong tram' (to be following the wrong train of thought) and finishing up with some verbal diarrhoea (never-ending blather), your mind will be brimming with useful (and not so useful!) sayings for your next run-in with a true Aussie character. ...Show more
$24.95
AUD
Category: Humour
A new, larger-format version of our beloved slang dictionary. Australian English has always been rich in slang and dialect words, many of which – dinkum for example – came out from Great Britain with the convicts and their meanings and pronunciation changed. Words from Indigenous languages, such as boom erang, began to be adopted and modified almost from the very first – and English words and phrases such as dead-finish were taken into Aboriginal languages, modified and loaned back to the English speakers. As time went by, words still in common use in Australia were no longer current in their country of origin, and so became Australianised. ...Show more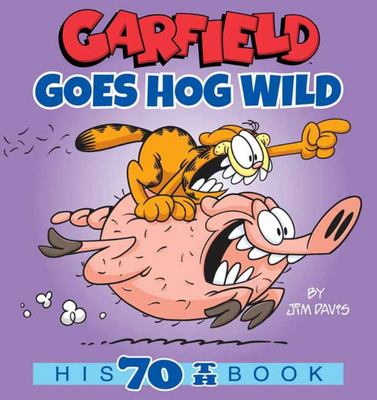 $25.99
AUD
Category: Humour | Series: Garfield Ser.
GO WHOLE HOG! Yeehaw! When it comes to eating, Garfield-with his Texas-sized appetite-doesn't hold back. It's go big or go home! Fans of the tubby tabby will be in hog heaven as they pig out on this brand-new collection stuffed with comics!