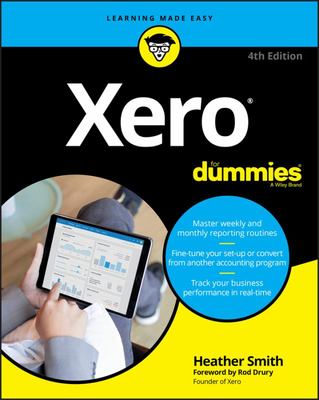 $39.95
AUD
Category: Information Technology
Get up and running with Xero in a flash Xero is fast emerging as the leader of online accounting software around the world, representing a serious challenge to MYOB, Sage and Quickbooks. Xero For Dummies provides you with all the information you need to set up your own Xero account from scratch, conver t to Xero from another accounting software provider or start using Xero to its full potential.  Easy to use and deceptively powerful, Xero is so much more than a spreadsheet - it can help you streamline reporting; manage inventory; simplify accounts; and organise suppliers, customers and more. Automatic imports, intuitive coding and seamless synching across multiple business platforms gets the paperwork done quickly so you can get back to running your business. This new fourth edition includes updates to the interface and coverage of the newest features, including updates on generating reports, working with fixed assets and managing contacts, sales and payables so you can optimise your system to help your business thrive.  Fine-tune your set-up, or convert from another accounting program Manage daily activities with contacts, accounts, sales and payables Master weekly and monthly reporting routines Track inventory, monitor your business and get the most out of Xero You didn't start your business in order to become an accountant, but bookkeeping is critically important to the short- and long-term health of your company. Xero simplifies the process and saves you time, and Xero For Dummies helps you leverage every feature Xero has to offer. ...Show more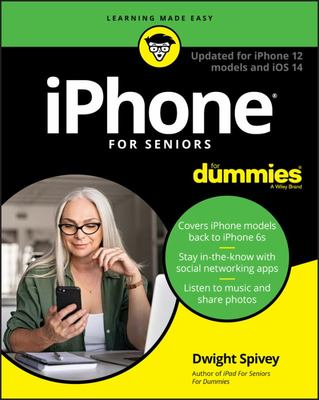 $49.95
AUD
Category: Information Technology
Includes coverage of iPhones 12, 11, X, SE, 8, 7, and 6 When you're looking for the most up-to-date information on your iPhone, look no further than this edition of iPhone For Seniors For Dummies. It's fully updated to cover iOS 14, the software released in Fall of 2020 that runs all iPhones dating ba ck to the iPhone 6. It doesn't matter if you have a brand new iPhone 12 or are sticking with the iPhone you've had for a few years. This book will help you navigate your device. Written especially for iPhone owners who don't need to know every detail of how their phone works, iPhone For Seniors For Dummies sticks to clear, friendly, step-by-step information on the essentials you'll use every day. It covers the basics of messaging with friends and family, using your iPhone as a web browser, watching television shows or movies, and taking and sharing photos and videos. Get to know which iPhone you own Upgrade to iOS 14 Add contacts to your Favorites list Connect your iPhone to wifi Track your well-being with the Health app Fix common problems when they occur When you're ready to build your skills and become the go-to iPhone guru for your friends, iPhone For Seniors For Dummies offers the insight you need to increase your know-how. ...Show more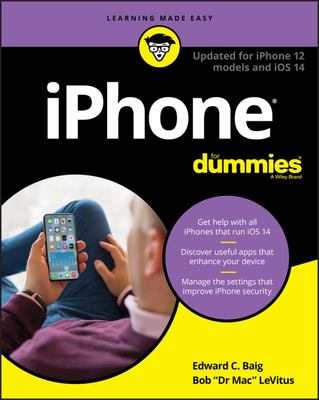 $49.95
AUD
Category: Information Technology
The latest edition – updated to cover iOS 14 and iPhone 12 Nothing seems to change faster than an iPhone. Just when you think you know your way around the device, a new update arrives and you have to learn everything all over again. This fully revised edition of iPhone For Dummies arrives just in time t o keep you up to date on iOS 14, the version of the iOS operating system released in late 2020, as well as all the updated features of iPhone 12. But don't worry if you're sticking with your current iPhone or buying an older model. This book offers help on using any iPhone that runs iOS 14, all the way back to iPhone 6. Written by two longtime Apple fans and experts, this revised guide covers the essentials you'll need to know about the industry-leading device and its slick iOS operating system, kicking off with set-up—navigating settings, hooking up to wifi, sharing audio and video—and then gearing you up to warp speed with the many incredible ways this smartphone's tools and apps can bring a joyful extra dimension to your life. Explore the basics of iOS 14 Enhance your interests with apps Get artsy with photos, video, and more Troubleshoot common problems Learn what makes the iPhone 12 different than the 11, X, SE, or older models Whether you're just getting started with a new phone or want to get even more from your current version, iPhone For Dummies puts the power right at your fingertips! ...Show more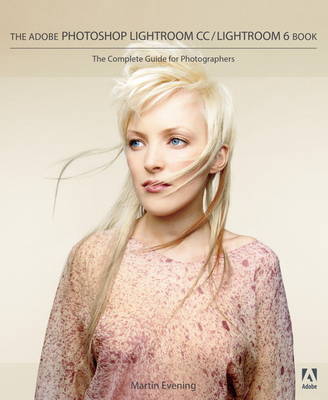 $86.99
AUD
Category: Information Technology
Adobe Photoshop Lightroom was designed from the ground up with digital photographers in mind, offering powerful editing features in a streamlined interface that lets photographers import, sort, and organize images. In this completely updated bestseller, author Martin Evening describes features in Lightr oom CC (2015 Release)/ Lightroom 6 in detail from a photographer's perspective. As an established commercial and fashion photographer, Martin knows firsthand what photographers need for an efficient workflow. He has been working with Lightroom from the beginning, monitoring the product's development and providing valued feedback to Adobe. As a result, Martin knows the software inside and out, from image selection to image editing and image management. In this book he'll teach you how to: * Work efficiently with images shot in raw or JPEG formats * Import photographs with ease and sort them according to your workflow * Create and manage a personal image and video library * Quickly apply tonal adjustments to multiple images * Integrate Lightroom with Adobe Photoshop * Export images for print or Web as digital contact sheets or personal portfolios * Make the most of new features in Lightroom CC / Lightroom 6 such as face recognition, multi-image processing for HDR and panoramas, GPU support for the Develop module, and Slideshow and Web improvements Photographers will find Lightroom CC / Lightroom 6 and The Adobe Photoshop Lightroom CC / Lightroom 6 Book indispensable tools in their digital darkrooms. "With Martin's expert guidance, you'll soon find that you have precisely the tools you need to turn your concentration back where it belongs-on making better pictures!" -George Jardine, digital photography consultant "As a photographer himself, Martin Evening knows what tools photographers need to realize their creative vision. In this book, he shows not only how Adobe Photoshop Lightroom works but also why it will become an essential part of any photographer's workflow." -Greg Gorman, photographer ...Show more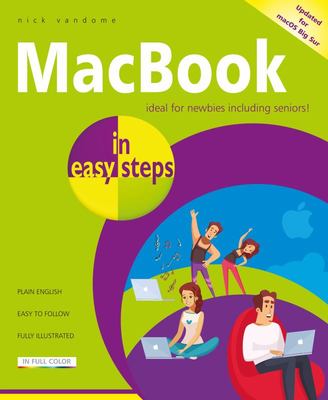 $24.99
AUD
Category: Information Technology | Series: In Easy Steps Ser.
MacBook in easy steps, 7th edition is perfect for those wanting to get a grasp of their new MacBook quickly, in easy steps. Learn the basics first - the Mac Desktop, the Dock, the Finder - then explore the great features of this popular Apple laptop. - Demystifies Mac jargon and MacBook versions - Expla ins the Dock, Desktop and the Finder - Shows how to use Family Sharing with other family members - Covers iCloud and the iCloud Drive for backing up and sharing files - Shows how to customize your MacBook - Demonstrates the Launchpad - Reveals all about finding and obtaining apps - Addresses battery issues and security - Covers using MacBook for work and for leisureIdeal for those new to the MacBook, including Senior readers. ...Show more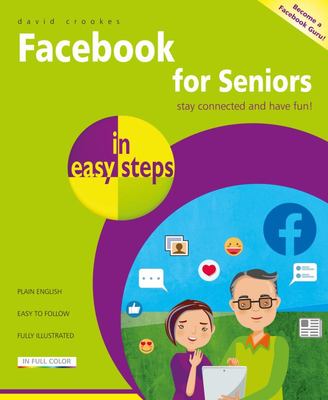 $24.99
AUD
Category: Information Technology | Series: In Easy Steps Ser.
Not on Facebook yet? Then Facebook for Seniors in easy steps is the perfect companion to enable you to join this popular social media site and stop missing out Set up an account and post on Facebook, whilst maintaining your privacy and staying safe. Have fun perfecting and sharing photos and videos. C reate and join Facebook Groups to share your interests. Save time by using Events to invite friends, and to organize your social life, in an instant. Buy and sell items using the no-fee Marketplace. Eliminate irrelevant adverts and annoying posts from your News Feed. Use the free messaging service, Messenger, to send private messages, and make phone and video calls. Learn about Facebook Portal for video chatting with your friends and family, and telling stories too Even if you are already a Facebook veteran, you're sure to learn something new with this jam-packed book - all in easy steps ...Show more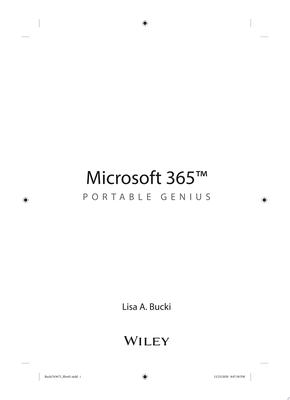 $32.95
AUD
Category: Information Technology | Series: Portable Genius Ser.
Power up your proficiency with this genius guide to popular Microsoft 365 apps Do you want to make your Microsoft 365 account a productivity behemoth? Do you want to squeeze every last bit of awesome from Word, Excel, and PowerPoint and learn a little more about Outlook, too? Microsoft 365 Portable Geni us has got you covered. A seasoned tech expert and trainer, author Lisa A. Bucki shows you how to build Word documents, Excel workbooks, and PowerPoint presentations the right way, as well as how to use high-impact design techniques to make your documents pop. This book answers 11 key questions about how to make the most of Microsoft 365, providing genius tips as it leads you through the essentials. You'll learn how to: Tackle common skills like creating files, adding basic content, navigating in a file, making selections, copying and moving content, and saving files Build a new Word document by using outlining, bullets and numbering, columns, and other features for creating and enhancing content Enhance Excel workbook files by organizing data on different sheets, filling entries, creating range names, and entering powerful, accurate formulas Develop a PowerPoint presentation by choosing the right layout for each slide and adding content to placeholders, and then transform it into an on-screen show with transitions and animations Add punchy design and branding by using text formatting, themes, and graphics in your files Use lists, tables, and charts to make data easier to interpret Create, send, reply to, and organize email in Outlook, as well as add contacts Share file contents on paper or digitally Check out the Online Bonus Appendix at Wiley for more genius coverage of topics including additional Excel formula review techniques, essential Excel functions, theme colors and fonts changes, and WordArt Whether you have used Office in the past or are new to its subscription successor Microsoft 365, Microsoft 365 Portable Genius provides the expert guidance you need to work smarter in Microsoft 365. ...Show more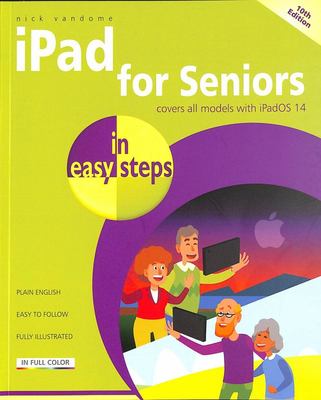 $24.99
AUD
Category: Information Technology | Series: In Easy Steps Ser.
The iPad is a tablet computer that is stylish, versatile and easy to use, and is one of the most popular tablets used by all ages. The range of models has been expanded over the years so that there are now different sizes to cover all mobile computing requirements. iPad for Seniors in easy steps, 10th edition gives you all the essential information you need to know to make the most out of your iPad: Choose the right model for you Navigate around with Multi-Touch gestures Customize the iPad for your needs Master Settings and apps to stay organized Find, download and explore exciting apps Use your iPad to make travelling stress-free Email, share photos and video chat for free Access and share your music, books and videos Stay in touch with family members Access your documents from anywhere Master Siri, and the new features in the latest version. A handy guide for any Senior new to the iPad, presented in larger type for easier reading. ...Show more
$65.99
AUD
Category: Information Technology
Absolutely no experience needed! Learn robot building from the ground up, hands-on, in full color!   Love robots? Start building them. It's way easier than you ever imagined!   John Baichtal has helped thousands of people get started with robotics. He knows what beginners need to know. He knows your que stions. He knows where you might need extra help. Now, he's brought together this practical knowledge in one incredibly easy tutorial.   Hundreds of full-color photos guide you through every step, every skill. You'll start simple, as you build a working robot in the very first chapter. Then, you'll grow your skills to expert-level: powering motors, configuring sensors, constructing a chassis, even programming low-cost Arduino microcontrollers.   You'll learn hands-on, through real step-by-step projects...and go straight to the cutting-edge with in-depth sidebars. Wondering just how much you can really do? Baichtal shows you 30 incredible robots built by people just like you!   John Baichtal's books about toys, tools, robots, and hobby electronics include Hack This: 24 Incredible Hackerspace Projects from the DIY Movemen t; Basic Robot Building With Lego Mindstorms NXT 2. 0; Arduino for Beginners; MAKE: Lego and  Arduino Projects for MAKE (as coauthor); and the forthcoming Building Your Own Drones: The Beginner's Guide to UAVs and ROVs. A founding member of the pioneering Twin Cities Maker hackerspace, he got his start writing for Wired's legendary GeekDad blog, and for DIYer bible MAKE Magazine.     Make your robots move with motors and wheels Build solar-powered robots that work without batteries Control robots via Wi-Fi, radio, or even across the Internet Program robots to respond to sensor inputs Use your standard TV remote to control your robots Create robots that detect intruders and shoot them with Nerf® darts Grab and carry objects using claws and grippers Build water-borne robots that float, submerge, and "swim" Create "artbots" that paint or draw original artworks Enable your robots to send text messages when they take specific actions Discover today's new generation of hobbyist-friendly robotics kits Organize your ultimate robot-builder's toolbox Master simple safety routines that protect you whatever you're building     ...Show more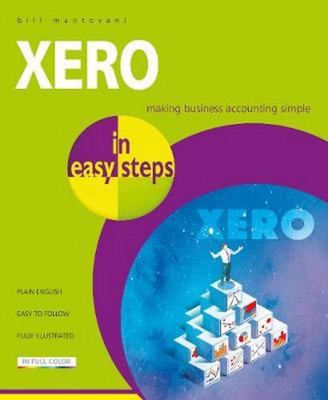 $24.99
AUD
Category: Information Technology | Series: In Easy Steps Ser.
Xero in easy steps uses detailed images and easy-to-follow instructions, showing the user how to quickly get to grips with the new features of this popular accounts software. Xero in easy steps uses detailed images and easy-to-follow instructions to guide the reader through setting up and using Xero acc ounting software. It is ideal for anyone using Xero for the first time, or for those needing to learn the latest features. Xero is cloud-based accounting software for small and medium-sized businesses. It is a subscription service, based on the type and number of company entities managed by the subscriber. Suitable for use by businesses worldwide, Xero's products are used in over 180 different countries. ...Show more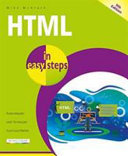 $27.95
AUD
Category: Information Technology
HTML in easy steps, 9th edition instructs you how to employ the latest development for web page design with HyperText Markup Language (HTML). Modern web browsers support exciting features of the HTML standard that allows easy creation of stunning web pages and engaging interactive apps. HTML in easy ste ps, 9th edition contains examples and screenshots that illustrate each feature of HTML, describing how to incorporate meta information about a document within its "head" section and how to add structured "body" content. You'll learn how to create web pages to display text, images, lists, tables, hyperlinks, forms, audio, and video. Each chapter builds your knowledge so by the end of the book you'll have gained a sound understanding of HTML. HTML in easy steps, 9th edition has an easy-to-follow style that will appeal to anyone looking to create compelling web pages for the latest browsers. Ideal for programmers who need to quickly learn the latest HTML techniques, students learning website design at school or college, those seeking a career in web development who need a thorough understanding of HTML, and the enthusiast eager to build the latest HTML features into their websites. ...Show more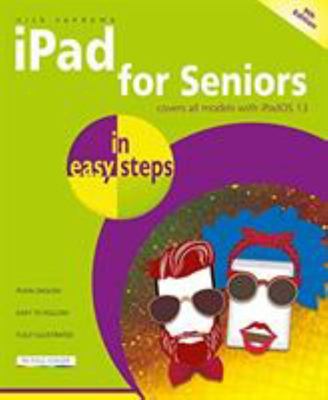 $27.95
AUD
Category: Information Technology | Series: In Easy Steps Ser.
The iPad is a tablet computer that is stylish, versatile and easy to use, and is one of the most popular tablets used by all ages. The range of models has been expanded over the years so that there are now different sizes to cover all mobile computing requirements. iPad for Seniors in easy steps, 9th e dition gives you all the essential information you need to know to make the most out of your iPad: Choose the right model for you Navigate around with Multi-Touch gestures Master Settings and apps to stay organized Find, download and explore exciting apps Use your iPad to make travelling stress-free Email, share photos and video chat for free Access and share your music, books and videos Stay in touch with family members Access your documents from anywhere A handy guide for any Senior new to the iPad, presented in larger type for easier reading. Covers all iPads with iPadOS 13, including iPad mini and iPad Pro ...Show more